Information concerning Red Banks church sign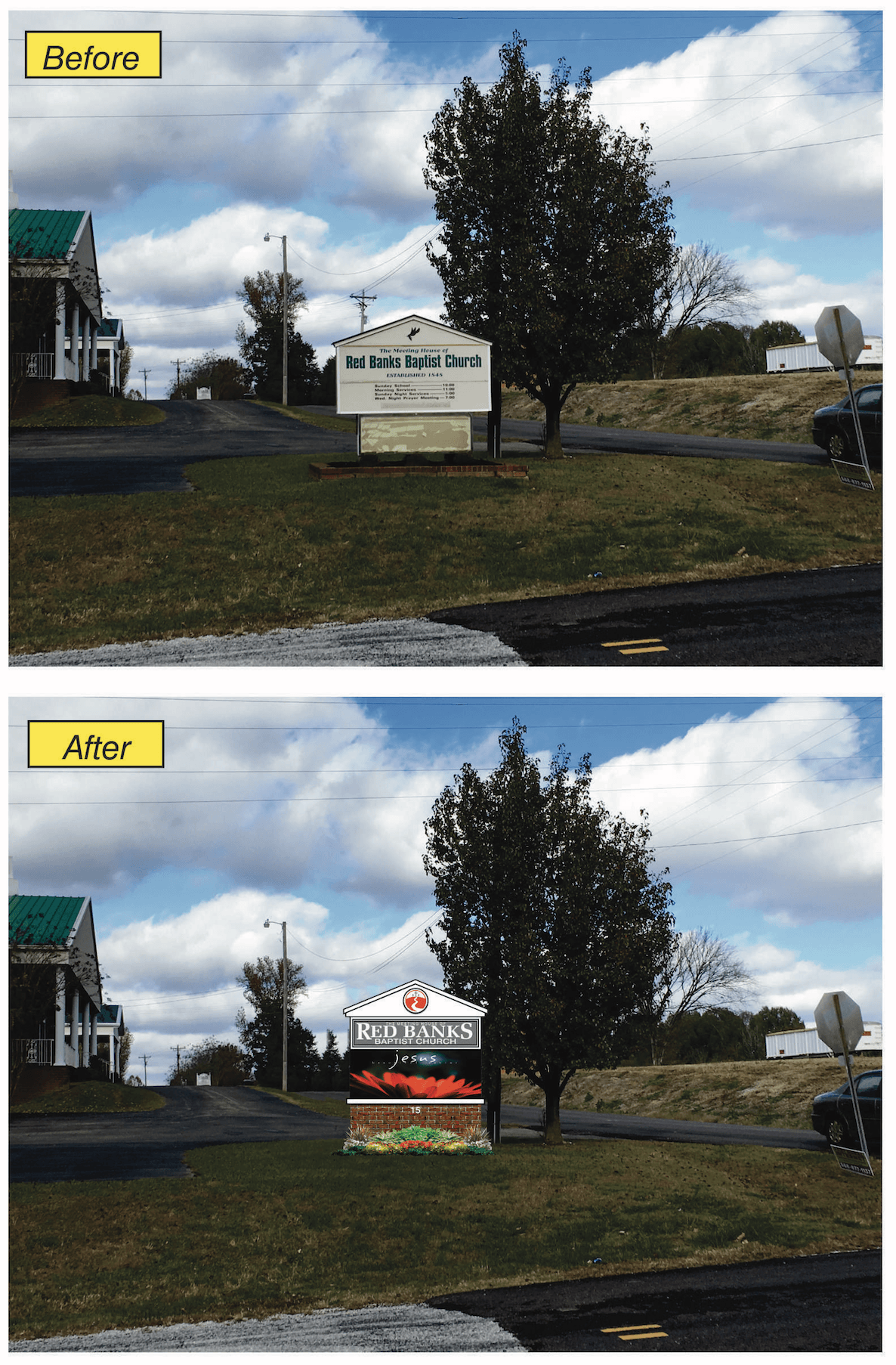 Why does Red Banks need a new sign?
Red Banks Baptist Church exists first and foremost to communicate the good news of Jesus Christ. His message is at the core of everything we do. We value His word which is eternal and will never return void. Our desire is to use this sign to communicate His message and His word to our community. Hundreds of people drive by daily. Since we are at a four way stop, most motorists spend a few moments near the sign. Moments we could use to speak God's word in their life and show His church in action. The digital sign is able to post color pictures as well as short videos. Signs are very important. Signs communicate. Why do you think we pass hundreds of them each day?The message we have to communicate is the greatest on earth. We should be willing to use methods that obviously work to reach people who need to see the message.
Wouldn't this money be better spent on the poor?
God's word makes it clear we have a responsibility to help the poor. Every year, Red Banks Baptist Church assists people in need. We rarely publicize that assistance due to respect to the families and the instruction Jesus gave us to "give and not let your right hand know what your left hand is doing" (Matthew 6:3) Jesus also made it clear our responsibility to proclaim His message. With regards to the poor, he stated in Mark 14:7, "You always have the poor with you, and you can do what is good for them whenever you want, but you do not always have Me." Poverty will always exist until Jesus brings His Kingdom fully to earth. We should do what we can, when we can, to alleviate poverty. However, the greatest gift we can give to a poor person is Jesus. We believe in the saying, "Give a man a fish and feed him for a day. Teach a man to fish and feed him for a lifetime." The life changing message God's Word brings is what every person needs most.
We could take the money spent on this sign and feed one family for two years. However, if the sign would cause a father or mother to follow Christ and live a life that pleases Him then the family will be effected for a lifetime. Hopefully, more than one family might be touched by His life changing message.
How can I give to purchase the sign?
You can give online by hitting the logo at the bottom right of this page. Gifts can be made by credit card or online check. When asked what fund you are giving to click on New Sign Campaign. The amount you designate will be placed in the church account. Of course, you can always give at church by writing a check and designating it New Sign. All donations are tax deductible. If you need to mail in a contribution mail to:
Red Banks Baptist Church
Attn: New Church Sign
P.O. Box 9
Red Banks, MS 38661